Level Info

Enemies

Next Level

Previous Level

Background music

Map

Usso Forest
Karmen Fortress in Usso Forest
Edit
"Did you use the Tree of Life to befriend some Tatepons?" Meden asks, worriedly. The time has come to rally the Patapons and head out for Earthend!
This stage is easy if you can get access to
Dekapons
and
Robopons
from the
Tatepon
evolution tree. First you come upon a wall and fort with some
Karmen
. Dispose of them and continue on to find
Don the Yumipon
. He will join you for the stage if your army is not already full. If you are he leaves and gives you the
Yumipon
Memory and a bow. The rest of the stage is a few more buildings which shouldn't give you much trouble.
Back at Patapolis
Edit
Meden: Oh Great Kami, Yumipon's memory has been found! Summon his fighting spirit at Mater the Tree of Life.
Karmen Fortress in Usso Forest Lv. 2+
Edit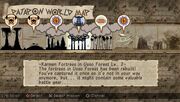 "The fortress in Usso Forest has been rebuilt! You've captured it once so it's not in your way anymore, but you should revisit it to uncover some hidden loot!"
BGM: Ponbekedatta's Theme
MAP: Usso Forest
Same fortress, slightly harder enemies. Karmen jump out where Don Yumipon was. Completing this stage the first time gives you the Mysterious Egg for the Fortress. Gives a lot of Iron weapons.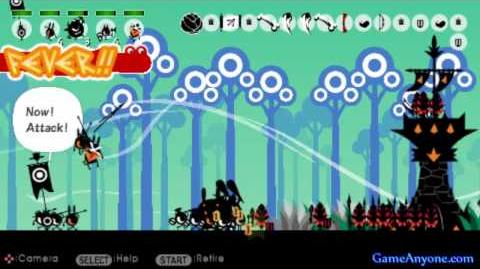 Ad blocker interference detected!
Wikia is a free-to-use site that makes money from advertising. We have a modified experience for viewers using ad blockers

Wikia is not accessible if you've made further modifications. Remove the custom ad blocker rule(s) and the page will load as expected.