"

"From ancient times, Patapons confident in their mobility would race their troupe against another towards a common goal. The chance to see their record broken made a thrilling spectacle."

"



 

— Area Description 
This is the seventh location in Patapon 3, and the first Dead Heat location. After completing one story mission in this location then the area is unlocked and can be played in Race Versus Mode only. It contains three missions, two which can played once and one which can be played as many times as you like. After completing A Mermaid's Tears and the Great Snow Race you unlock the mission Archfiend of Purity and unlock the mission Ephemeral Dreams Dashed, which can be played untill you meet Miss Covet-Hiss, then you unlock The Great Race For Pride.
Master Obelisk
Edit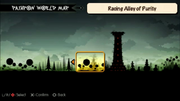 Battle Gate
Edit
Ad blocker interference detected!
Wikia is a free-to-use site that makes money from advertising. We have a modified experience for viewers using ad blockers

Wikia is not accessible if you've made further modifications. Remove the custom ad blocker rule(s) and the page will load as expected.