"

"In ancient times of gods, he soared towards the heavens seeking the sun; the symbol of justice, but his wings were scorched and he plummeted to this plateau, leaving a heavy mist lingering, reminding us ever more the folly of pride."

"



 
— Area Description 
This is the tenth location in Patapon 3, and contains five missions, and two DLC quests:
DLC (Dark)
Edit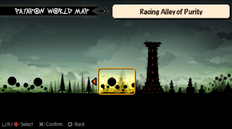 If you level up your Piekron to level 5 and get the "Rain Dance" skill , the rain will remove the fog and increase your visibility, although this is entirely optional, except in the quests Centura of the Mist and (Boss Battle) Darantula.
The Plateau of Pompous Wings is the only area which the fog covered all missions in it.
The description of the Plateau of Pompous Wings bears resemblances to the legend of Daedalus and Icarus.
There is a glitch that the Plateau of Pompous Wings looks different in the map before you complete A Mermaid's Tears and the Great Snow Race.
Ad blocker interference detected!
Wikia is a free-to-use site that makes money from advertising. We have a modified experience for viewers using ad blockers

Wikia is not accessible if you've made further modifications. Remove the custom ad blocker rule(s) and the page will load as expected.