MY EYE!! MY EYE!!!

Warning: This page contains spoilers that can spoil your experience for the Patapon games.
Patapon 3 is the first game in the series with multiple endings. After Arch Pandara is defeated, you will be given three choices, each with a different ending and corresponding bonus. You can obtain all three endings, as you are given this choice every time you beat the mission "Eternal Archfiend and the Other Vessel".
The Choices
Edit
After defeating Arch Pandara and viewing the final cut scenes of the Dark Heroes, your Uberhero will appear in a spotlight, floating in a black void. A mysterious voice will offer to grant a single wish, after which you may choose one of three dialogue options. You get to choose wishes as many times as you want.
Ending 1: "Breath Life into Me!"
Edit
Wishing to become stronger in the realm of the living, your Uberhero is resurrected to battle the Dark Heroes for the rest of his life.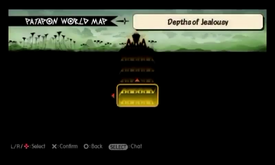 Ending 2: "Let me die in peace."
Edit
Tired of battle and warfare, your Uberhero dies peacefully below the earth.
Ending 3: "Offer my soul, and save the Patapons..."
Edit
Wishing to build a future for his race, your Uberhero offers his soul to free the Patapons and Meden from their petrification.
After going through the three endings, you can buy themes from the Silver Hoshipon's Shop.
Ad blocker interference detected!
Wikia is a free-to-use site that makes money from advertising. We have a modified experience for viewers using ad blockers

Wikia is not accessible if you've made further modifications. Remove the custom ad blocker rule(s) and the page will load as expected.