I can explain this, great Kami! This is nothing more than… a construction project.

This page is under construction. It needs editing and some grammar corrections. Please contribute in helping this page.
Accessories in Patapon 3 include Team Cards, Flag Emblems and Theme Songs. Your accessories can be viewed in the Armory. More accessories can be bought from Silver Hoshipon's shop. Theme Songs allow you to change the song of the quest you are about to do. They can be bought after selecting the second option at the end of the game.
Team Cards
Edit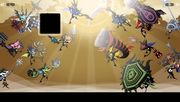 Choose which recruitment card design your team uses Through the Team Totem. Be aware that if you are currently a member of a different player's team, you are not able to change the card design. You may hand out cards to other players if you are currently the leader of a team or if team leader has given you the ability to send cards, as long as you have a free team slot available.
Cards will display a given team's name, rank, and slogan. They cost 1 or 10 Star Shards each.
Flag Emblem
Edit
Choose which flag design your team uses at the Team Totem. You may only change your team's flag emblem if you are the team leader.
This emblem will appear at Sukopon's tower in the hideout of every team member, as well as at the team's base during vs mode.
They cost 1 or 10 Star Shards each.
For the main article, see Themes.

Choose what music track plays during a mission. Complete all 3 endings in the story to gain access to themes in Silver Hoshipon's Shop.
Each theme costs 1 star shard.
Tickets are used to design your Uberhero's hair. They cost 1 Star Shard each.
Cool Ticket
Edit
Standard stylish dew designed for Uberheroes. Activate in Armory to change hair style. You can get basic hair styles from this ticket, like the basic Yarida, Taterazay, and Yumiyacha hair styles.
Moody Ticket
Edit
This cool, moody hair style is modelled after enemy characters. Activate in armory to change hair style. You can get enemy patterned hair styles like a Scorpion tail,
Gong
's Helm, and
Crab
pincers
.
Wacky Ticket
Edit
An unusual hair style for those who like to express themselves. Activate in Armory to change hair style. You can get odd and unique hair styles from this ticket, such as a bird's nest, a toothbrush, or a Wep.