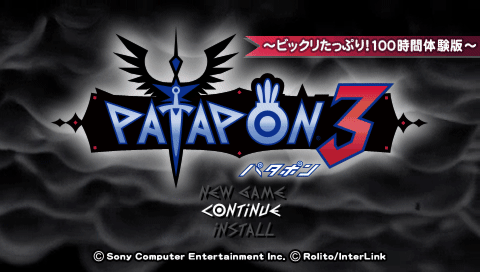 Patapon 3 "Full of Surprises 100 Hour Demo is the second known Japanese demo for Patapon 3. It contains the features of the first demo, but now you can unlock 3 new classes. You can play single player mode, as well as multiplayer. Also, three other Patapons; a Yaripon, a Tatepon and a Yumipon, called Ton, Chin, and Kan respectively, are playable.
The demo begins with the prologue from the multiplayer beta after that, your Uberhero, Silver Hoshipon, and the members of the Patapon Trifecta take Meden to the Hideout. In the Hideout, there is the Obelisk here new missions and replayable missions can be played in multiplayer mode. There is also a Patapon with a telescope (Sukopon). The Altar which stores your items, and the armory where you can disassemble your materials and weapons when it is full or whenever you need ka-ching. There is a barrack that lets you equip weapons to your Patapons, a forgery that replaces Ton Kampon, here you can level up any weapon, but the unique weapons you have to a maximum of +3 after this you may only choose one type of equipment to upgrade to +5, but whenever you visit another player's world you can upgrade the equipment that they have chosen to +5. There is a a cave that uses Ad-hoc or Infrastracture so that you can connect with other players. And finally there is a battle gate that specifically allows you to create teams of 2 to 4 players, and challenge other players to to various versus missions. This demo also has more stages, bosses, enemies, weapons and allows you to customize your hideout/base.
This demo has hideout elements that are different to the ones in the final releases of the game. The heroes appear in a different order in the Team Totem, starting from the left side to the right side. The festival has the same base aspect, but the fires are off and there are no patapons dancing (it can only be unlocked using Debug Mode, as the last missions can't be accessed to unlock the endings) .
Decorations
Edit
This demo has many unique decorations that do not appear in the final game. The themes are Fancy, Spooky, Space, Love/Valentines, Spring/Spring Festival, Summertime, Halloween, Christmas, Playstation. Below is a gallery of them.