Patagate
Talk

0
600pages on
this wiki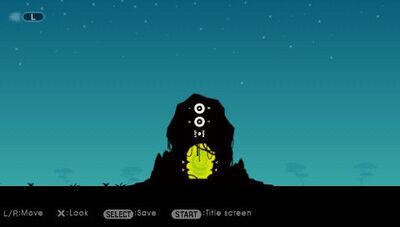 This portal leads to the multiplayer world where you and three other friends can play together to conquer bosses and fortresses to collect Hero
Masks
,
Komupons
, equipment, and materials. If you don't have any human friends to play with you, you can play with 
Komupons
as their replacements.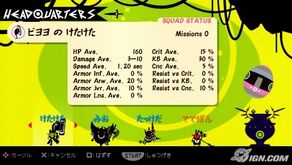 Gameplay involves using eggs won from bosses and some levels. In Patagate you play the mission of the egg within a limited amount of time. In these missions, the difficulty is set to Normal Mode, mainly because the other players might have varying skill levels. When the level is finished, a short minigame similar to the one for Jujus is played. Depending on your performance and previously won items, you may get different items, such as a 
Komupon
, mask, or material. The masks increase in power of effect as you repeatedly use an egg. Eggs level up similar to how bosses level up. All Ka-ching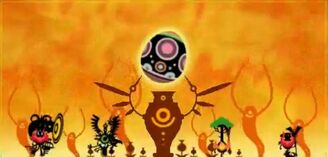 earned in Patagate (has a different name, Pachiri) can be used to open boxes containing materials or weapons (200 is required to open all boxes). Any left over Pachiri is multiplied by five and converted into Ka-ching as you leave.
You can start instantly if you beat the movement song even when it is loading when you hear its the right rhythm you are successful. In this mode you have a different rhythm. If you lose Fever you must wait until they finish saying Ton, Chin, Kan, Hai!
Trivia
In the U.S version it is called Patagate, while the European version calls it Paraget.
The drumming difficulty is Normal in the Patagate, regardless of what you chose.
It noramlly only takes 3 combos to reach Fever, but this varies depending on the Komupons used, and if playing Ad-Hoc mode, the player's perfect timing.
By using Debug Mode, you can get into Patagate levels with your Singleplayer army. Hatapon will be nowhere to be seen, and performing the Miracle command will crash the game.

Some of the Patagate fortress levels crash the game for some reason when using this.
Also crossing the end post like this also crashes the game before the DON CHAKA.

Singleplayer Patagate test level. Hatapon isn't there.

Added by

Sonickyle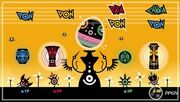 See Also