Pan Pakapon is a musician who helps Ubo Bon scratch his head. In Patapon 1, you get the Pakapon cap when you destroy the tombstone in the mission Escape from Isolation. It will cost a Leather Meat for a game. The rewards are random. It includes Banal Branch, Cherry Tree, Hinoki, Stone, Titanium Ore and Leather Meats.
You can get Pan Pakapon's hat in Patapon 2 after completing Level 1 on the Timed Obstacle Course. It will cost Ka-ching for the 3 levels. The rewards are level 1-4 Wood, Hide, Meat, Bones and Fangs, all of which are useful for leveling up Yumipons, Kibapons, Megapons, Toripons, Tatepons, Dekapons, Robopons and Yaripons.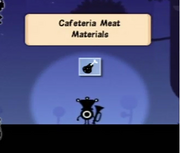 Ad blocker interference detected!
Wikia is a free-to-use site that makes money from advertising. We have a modified experience for viewers using ad blockers

Wikia is not accessible if you've made further modifications. Remove the custom ad blocker rule(s) and the page will load as expected.