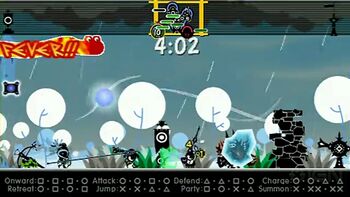 Orbs are special objects first introduced in Patapon 3. They only appear during some training levels of the Patapon Training Grounds and some V.S. Races. Orbs tend to float above the ground, requiring the DonDon song to be played to reach them. Once touched, they will give a small boost to your units.
The orbs come in two types:
Blue Orbs will greatly increase your marching speed. This effect stacks with other speed boosting effects, such as Wondabarappa's Heave Ho 4 skill. As said above, they are seen in marching training levels, and are also seen offline V.S Races against Dark Heroes. When collected, the Orb will turn into an image of a running Patapon.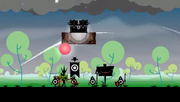 Red Orbs are only seen in the timed training courses of the Patapon Training Grounds. When collected, they add a 10 - 15 second boost to the timer, allow a greater marching distance. Unlike the blue orbs, they do not change to an image when collected.
When playing V.S. online, orbs are disabled, including when entering the Battle Gate.