Unlocking
Edit
Patapon 2
Edit
Complete Misson 14.
Level 1: 1 Level 1-3 Material

Level 3: 5 Level 1-3 Materials
Information
Edit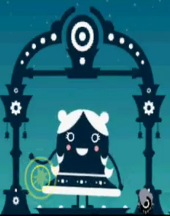 Shuraba Yapon and Kururu the Bell. Shuraba is a long haired musician Patapon who gives lessons to Kururu. Shuruba appears after beating the fourteenth mission (Patapon 2) and has a maestros suit and baton. Kururu on the other hand has long white hair and a dress. Kururu dances to the music hat Shuraba's music and in result drops ka-ching .
Press the circle button as the dots cross over the line. When a long line of dots comes towards the line, press "O" fast as you can to rack up ka-ching.
The rarer the materials you give, and the better you do, the more ka-ching you get at the end (nearly from 10-20 to 1000-1100).
Ad blocker interference detected!
Wikia is a free-to-use site that makes money from advertising. We have a modified experience for viewers using ad blockers

Wikia is not accessible if you've made further modifications. Remove the custom ad blocker rule(s) and the page will load as expected.