Many people have been asking me how to capture screenshots on PSP or for Patapedia, well by popular demand, I have made this article to teach you step by step how to do this.
Requirements
Edit
A Fat or Slim PSP installed with 3.71 M33 or higher custom firmware. This means it will also work with 3.80 M33 custom firmwares.
A USB Cable to enable connection between your computer and your PSP.
Note: This is not a guide on how to modify your PSP so don't complain to me if the guides did not work for you. If I can figure everything out myself, YOU can too.
Instructions
Edit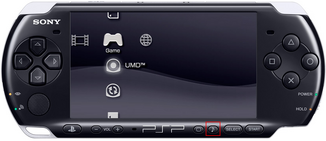 Download the screencapture pack to anywhere on your computer.
Unzip the file you've downloaded.
Connect your PSP to your PC using a USB Cable. Check if you have already the seplugins folder on the root of your memory stick. If you don't have it yet then proceed to step 4. If you do already have it then proceed to step 5.
Do this only if you don't have the seplugins folder yet. Copy the seplugins folder from your computer to the root of your memory stick.
If you did step 4 then skip this step. You only have to follow this step if you already have an existing seplugins folder. Copy screenshotbmp.prx from the seplugins on your computer to the seplugins folder on the root of your memory stick. Now go to the seplugins on your memory stick. If you have vsh.txt already present, you have to open the file and edit it. Open it in Notepad or any text editor and add these code in a new line: ms0:/seplugins/screenshotbmp.prx. Check if you also have pops.txt and game.txt present on your seplugins folder in your memory stick. If you have it then do the same routine, edit it and paste that line of code in a new line. Otherwise you can just grab the game.txt and pops.txt from the file you've downloaded.
Disconnect your PSP from your computer. Now open the recovery menu. How? Turn off your PSP then turn it on again while pressing the R button. On your recovery menu, go to Plugins and enable all the screenshotbmp.prx plugins. Exit the recovery menu.
Try it on your XMB. Press the note button. You will know the screenshot plugin is working when an inverse color of your screen will sweep from the bottom to the top. The screenshot will be saved on your PICTURES folder on your memory stick and you can also view it by going to Photo > memory stick on your PSP.
This article was originally from Tech4idiots
Ad blocker interference detected!
Wikia is a free-to-use site that makes money from advertising. We have a modified experience for viewers using ad blockers

Wikia is not accessible if you've made further modifications. Remove the custom ad blocker rule(s) and the page will load as expected.