I can explain this, great Kami! This is nothing more than… a construction project.

This page is under construction. It needs editing and some grammar corrections. Please contribute in helping this page.
"

By now, (Uberhero's name)'s forces are heavily armed. Who needs teamwork, when you have big guns? "I'll teach those annoying Patapons a lesson!♥" Covet-Hiss has even bigger guns - a cannon!

"



 

— Mission Description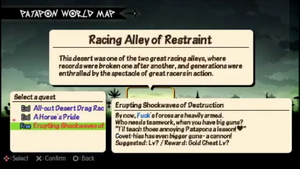 Suggested: lvl ? / Reward: Gold Chest lvl ?
This is the third mission at the Racing Alley of Restraint, and is playable for an unlimited time after completing Covet-hiss Loves Cannons. This is the same as the previous mission at the Racing Alley of Restraint, except you'll face Buzzcrave, Slogturtle, Sonarchy and Covet-hiss.
Walkthrough
Edit
This mission is quite straightforward: destroy all red obstacles and be the first to reach the goal. Having a Lv25 Tondenga Uberhero would make this quest very easy. The Dark Heroes, on the other hand, will be trapped behind the blue Iron walls.
Instead of encountering a monster like in The Great Race For Pride, after the set of Iron walls, you will only have to walk a long way.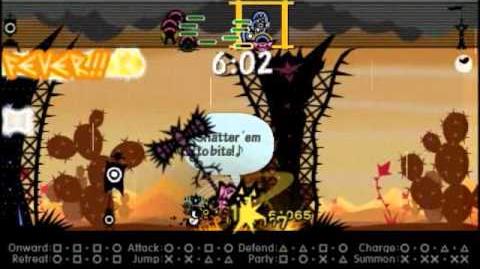 Ad blocker interference detected!
Wikia is a free-to-use site that makes money from advertising. We have a modified experience for viewers using ad blockers

Wikia is not accessible if you've made further modifications. Remove the custom ad blocker rule(s) and the page will load as expected.