"

The steel giant was given life by a civilization which flourished in ancient times. The Patapons have fought Dogaeen to near death on countless occasions. Climb the Tower of Purity, and topple Dogaeen once again!

"



 

— Mission Description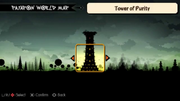 Suggested: Lv9+ / Reward: ?
This is exactly the same mission as "Bound for Higher Heights" but tougher, more health and damage. This mission takes place also at the Tower of Purity. Read the page above for information on this mission.
Ad blocker interference detected!
Wikia is a free-to-use site that makes money from advertising. We have a modified experience for viewers using ad blockers

Wikia is not accessible if you've made further modifications. Remove the custom ad blocker rule(s) and the page will load as expected.