| | |
| --- | --- |
| | I can explain this, great Kami! This is nothing more than… a stub. |
Level Info

Enemy

Next Level

Previous Level

Background Music
Walkthrough
Edit
When you start the level, you will first encounter a small obelisk or gravestone. If you destroy it you will get the Don Drum. After that you will face the mighty Majidonga [Mah- jee- dong- guh] who is like Dodonga, but he is stronger, red, has a huge horn, and eats your Patapons without leaving their caps behind so you can't revive them. See the article on how to beat him. After defeating Majidonga, you will receive the JuJu Rain Miracle.
From the name of the mission "Lostdon" it obviously shows the aim of the mission (To find the lost Don Drum)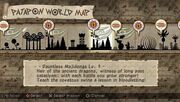 Ad blocker interference detected!
Wikia is a free-to-use site that makes money from advertising. We have a modified experience for viewers using ad blockers

Wikia is not accessible if you've made further modifications. Remove the custom ad blocker rule(s) and the page will load as expected.