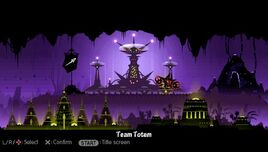 You can unlock
Dark Hero Mode
after beating the game and choosing the first choice; "Breathe life into me".
To play Dark Hero Mode, you must select a new game from the main menu. After watching the introduction video, and signing the contract, you will be asked:
"Enter into a Dark Hero covenant to face Super Heroes and tread upon an endless VS road?"
Pick yes to choose a victorious game save on your memory stick to copy. That savegame will not be deleted, and you can continue playing it. All the weapons, armour and Ka-ching you collected are transferred to the Dark Hero save, even the equipment that cannot be used.
In Dark Hero mode, you can only play one mode: Versus Mode. You can use either Ad-hoc or Infrastructure.
Note: Your team mates can only be Dark Heroes. Dark Heroes can also only fight against Uberheroes.
Equipment
Edit
Upon beginning Dark Hero mode, you will get all your weapons from the completion file, and the following weapons:
Ponteo the Victorious +13*
*Note: Items marked as +13 will vary from +10 through +15.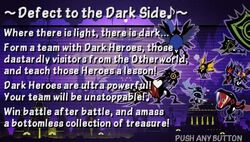 As long as you finish at least ONE save file with the first ending choice, you may use ANY victory save file and gain whatever items from the new save file. This means you can finish the game, delete that save file, finish the game again with a different ending, and you can create a new Dark Hero save file from that second victory.
Dark Hero Hideout is in reverse order from Normal Hideout.
The Tip Defect to the Dark Side (right) will appear every time you enter Dark Hero Mode.