"

"The Ancient colossal dessert creatures had insatiable appetites, and eventually feasted upon the entire desert, sand and all their descendants, although quite tiny, exist even today".

"



 

— Area Description 
This is the eighteenth location in Patapon 3, it contains seven missions. five normal, and two DLC: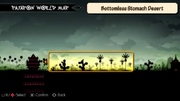 DLC quests (Dark)
Edit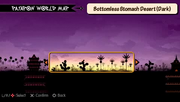 Ad blocker interference detected!
Wikia is a free-to-use site that makes money from advertising. We have a modified experience for viewers using ad blockers

Wikia is not accessible if you've made further modifications. Remove the custom ad blocker rule(s) and the page will load as expected.