"

Buzzcrave's world class steed Ponteo has nightmares about his defeat to (Uberhero's name). One day, he will redeem himself, and show (Uberhero's name) what a true horse is made of! Neigh!

"



 

— Mission Description 
Suggested: Lvl 21 / Reward: Iron Chest Lvl21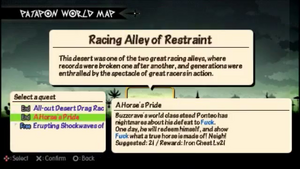 This is the second mission at the Racing Alley of Restraint, and it is playable until you beat Covet-hiss Loves Cannons.
This is like other Dead Heat quests, but the Dark Heroes are stronger, and more Iron Walls are present.
This is a very good place to evolve Destrobo's Class Skill Metal Smasher, because there are many iron towers. Completing will give about 15-20 exp.